Today marks my first day off my "offseason". I just finished a long stint of contest dieting for a bodybuilding contest. My goal this year was to surpass my condition from last year and have a good time and I achieved both, so I consider this year very successful. Unfortunately my contest season was cut short due to a tanning mishap but I think I have that all figured out for the future should I compete again.
I went to the supermarket today and it was the most glorious affair I have experienced for a while. I was actually a little disgusted by how happy grocery shopping made me. Although I don't really restrict food groups while dieting, being on a strict calorie allowance really restricts your choices sometimes. It was nice to just be able to get the stuff I had been missing: a variety of fruits, feta cheese and sun dried tomatoes in oil, whole grain rye bread, hummus, camembert
mixed dried fruit, greek yoghurt. I only bought one "bad" thing... the Christmas goodies are out for sale already so I got this packet of mini chocolate Christmas puddings. Okay, I did go back later and buy some of those pudding cup things and a Christmas Cookie (see below).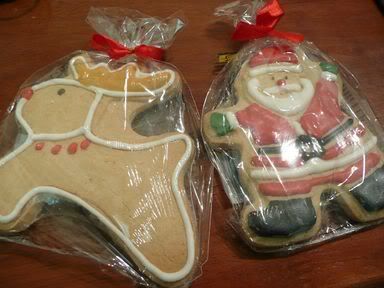 Now that I'm not dieting I definitely intend on honing my baking and cooking skills. I *love* trying out new recipes. Gordon Ramsay is one of my favourite people. He makes healthy, simple but yet tasty food. I'm quite intent on trying to make as much of my own food as possible to avoid those hidden preservatives and badness. Home made always tastes better anyway!
So anyway, if you're interested in heavy weights, good healthy food, beer and having a good time then stay tuned!